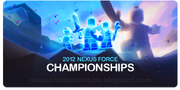 Hello explorers,
The 2012 Nexus Force Championships will be a bit different than last year, and due to "The Closure", several events have been, unfortunately, canceled. But October first, we will still host a variety of building events, a screenshot contest, and more, depending what we can manage. Also, there will be no prizes this year, as our budget is about as big as an empty wallet; but you can still compete for personal glory and, of course, determine the greatest faction of all time!!!
Current details: We plan to use the LEGO creation sharing site MOCpages.com to host the weekly contests, so be sure to check that out and get an account set up on there if you haven't already!
Ad blocker interference detected!
Wikia is a free-to-use site that makes money from advertising. We have a modified experience for viewers using ad blockers

Wikia is not accessible if you've made further modifications. Remove the custom ad blocker rule(s) and the page will load as expected.