This page needs improvement. Please improve this article to make the wiki a better place!

Reason: In desperate need of a re-write

Worlds are the locations in LEGO Universe. Worlds can be traveled to by rocket, or on occasion, through teleporters. During Alpha and Beta, only Venture Explorer, Avant Gardens, Nimbus Station, Gnarled Forest, Forbidden Valley , Club Station Alpha , and for a short time Starbase 3001 were available in addition to the five starter properties.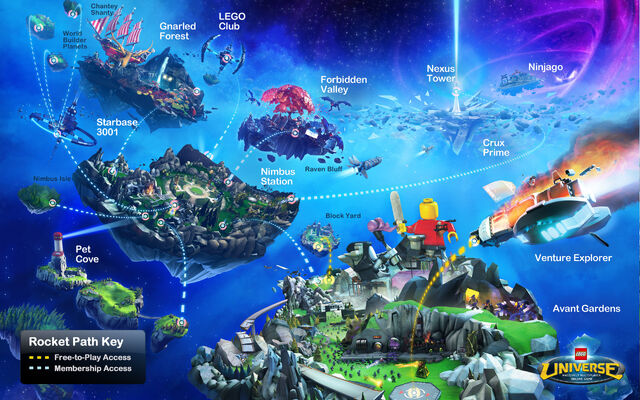 Nimbus System
Side Worlds
These are worlds not part of the main system of worlds, and are listed in separate sections of the Passport.
Unreleased Worlds
Worlds planned for release, but due to the closure of LEGO Universe were never launched.
Kingdoms World - A large castle themed world, planned for release in early 2012.
Nexus City - A large city surrounding Nexus Tower.
Redesigned Worlds
Worlds from the early development of LEGO Universe that were not cut from the final game, but redesigned into current ones.
Removed Worlds
Worlds at one point planned for inclusion in LEGO Universe, but unlike the worlds in the previous section, were entirely cut from the game rather then redesigned.
Story Worlds
These locations are relevant only to the LEGO Universe story and cannot be played.
Gallery
References